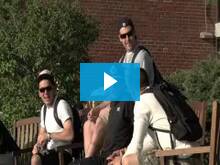 As one of the most affordable not-for-profit, private institutions in the U.S., Mercy College makes high-quality education attainable. The school offers 90+ graduate and undergraduate programs as well as 25 online degree programs. Nearly 10,000 students pursue degrees in a wide range of subjects, including business, counseling, education, health professions, and liberal arts.
At Mercy College, students learn in small, interactive classes. The faculty is comprised of Fulbright scholars, award-winning authors, and notable authorities in their field. As part of a collaborative program, students receive academic, career, and personal support from mentors dedicated to their success.
Fast Facts
College Type: Private
Program Type: 4-Year College
Campus Size: Large (over 5,000 students)
Campus Type: Urban
The school has campuses in the Bronx, Dobbs Ferry, Manhattan, and Yorktown Heights. On-campus living in an affordable option or many students, with sliding room rates for single, double, triple, and quad occupancies. Students have access to a newly renovated 215,000+ volume library, a wireless campus, computer labs, and a professional-quality recording studio.
Students can participate in a diverse range of clubs as well as on-campus events and New York City trips. The Dobbs Ferry campus also offers five outdoor tennis courts, a pool, ballfields, and a track.
Mercy College is a NCAA Division II member and offers intercollegiate, intramural, and recreational sports, including men's baseball, basketball, soccer, and lacrosse and women's volleyball, softball, basketball, soccer, lacrosse, and field hockey.