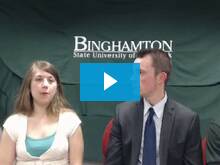 The State University of New York at Binghamton is a public research university that's often referred to as a "Public Ivy" school. Binghamton is proud to be named a "Premier Public University in the Northeast" by the Fiske Guide to Colleges, and to earn the designation as a "Best Buy". The university also earned numerous other distinctions, including being named a top business school in the nation by Bloomberg BusinessWeek, and receiving high marks for job placement and teaching quality.
More than 15,000 undergraduate and graduate students pursue degrees at this world-class institution. Vibrant research programs and a broad interdisciplinary education are hallmarks of a Binghamton education. The university is classified by the Carnegie Foundation as having high research activity, with classes taught by groundbreaking scholars and researchers. The expansive science complex will soon feature one of the largest research and teaching facilities of its kind. Its laboratories and clinical research space are state of the art.
Fast Facts
College Type: Public
Program Type: 4 - Year College
College Size: Large (over 5,000 students)
Campus Setting: Rural
Many students take advantage of unique academic opportunities such as combined degrees, foreign language study groups, and international educational programs. In this collaborative environment, students find a diverse student body, active social life, and strong commitment to the community. The main campus is located in Vestal, NY, with a second education center in downtown Binghamton. The idyllic main campus spans 930 acres of wooded hillside along the Susquehanna River, featuring 190 acres of forests and hiking trails. Students also enjoy performances at the university's 1,200-seat theatre, a museum featuring more than 3,000 modern and ancient works of art, and a spacious fitness center offering dozens of classes a week.
The downtown Binghamton campus offers students easy access to a symphony orchestra, movie theatres, fantastic restaurants, bars, as well as professional baseball and hockey teams. Students live in one of six modern residents halls, each with its own character. Binghamton competes in 21 NCAA Division I varsity sports, and also offers an outdoor pursuits programs featuring kayaking, hiking, and camping trips to area parks.