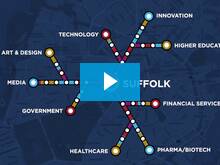 Suffolk University is a private, nonsectarian university that encompasses the Suffolk University Law School, the Suffolk College of Arts and Sciences, the Sawyer Business School, and the New England School of Art and Design. In addition to the main campus in downtown Boston, the university has another campus in Madrid, Spain. The university offers more than 70 undergraduate and graduate degree programs, as well as interdisciplinary and international programs. The university also offers a Saturday-only executive MBA program that includes seminars as well as trips to London and China.
Due to its prominent law school, Suffolk draws many notable scholars and speakers. The university is also home to numerous research centers, including the Beacon Hill Institute; the Centers for Restorative Justice and Women's Health and Human Rights; the Poetry Center, and the Political Research Center.
Fast Facts
College Type: Private
Program Type: 4-Year College
Campus Size: Large (over 5,000 students)
Campus Type: Urban
Despite being one of the largest universities in metro Boston, Suffolk faculty and administrators know students by name. They take the time to get to know students, and help them realize their full potential through strong mentoring relationships. In this supportive, collaborative environment, students are encouraged to actively participate in critical thinking and problem solving. Suffolk is a place where students find their purpose. Graduates have gone on to be successful and conscientious citizens, holding leadership positions in business, law, public service, science, and the arts. Over 90% of graduates have gone on to full time employment or continuing education after completing their undergraduate programs, and held positions with employers such as Brigham & Women's Hospital, the Boston Red Sox, Liberty Mutual and PWC.
90 percent of freshman and a quarter of all undergraduates live on campus. Students can participate in a wide range of organizations, including a classical music ensemble, entrepreneurship club, environmental club, fashion industry network, performing arts office, jazz ensemble, and much more.