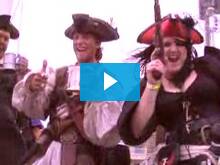 Armstrong Atlantic State University is a public university renowned for its arts and sciences and professional programs. Located on a 268-acre campus in the beautiful city of Savannah, Armstrong is a community-oriented campus with 100+ academic programs that prepare students for successful careers and leadership roles.
Part of the university system of Georgia, the school offers bachelor, masters, and doctor degree programs. Classified as a master's college and university by the Carnegie Classification of Institutions of Higher Education, the university offers study abroad, research, community outreach, leadership, and internship opportunities, giving students a broad worldview.

Fast Facts
College Type: Public
Program Type: 4-Year College
Campus Size: Large (over 5,000 students)
Campus Type: Urban
The school's 7,600 students benefit from passionate faculty who were chosen for their academic experience and focus on student success. Students are encouraged to communicate and collaborate one-on-one or in small groups with faculty members.
More than 85 percent of students receive financial aid. The arboretum-style campus is 15 minutes from downtown Savannah and just 25 miles from Tybee Island beaches. It encompasses an extensive academic and research library, science center complex, recreation and aquatic center, and 61,000-square foot student center, which is the campus's first eco-friendly building. Although it is primarily a commuter campus, the university does have four residential communities.
The university competes at the NCAA Division II level as a member of the Peach Belt Conference and also sponsors club sports such as basketball, billiards, bowling, dance, flag football, and more. The school offers many extracurricular activities through 60+ student clubs as well as fraternities and sororities.