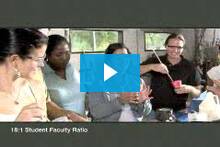 Florida International University (FIU) is Miami's first and only four-year public research university. As one of the largest public universities in the nation, Florida International University serves nearly 46,000 students. The school offers more than 180 bachelors, masters, and doctoral programs in fields such as engineering, international relations, and law.
Fast Facts
College Type: Public
Program Type: 4-year college
College Size: Large (over 5,000 students)
Campus Setting: Rural
Nearly 80 percent of the school's undergraduate students are enrolled in the Colleges of Business Administration, Arts & Sciences, and Engineering. FIU also has a strong emphasis on research. It is listed as a first-tier research university by the Carnegie Foundation. With the opening of the Herbert Wertheim College of Medicine, FIU has enhanced its research initiatives, with research expenditures in excess of $100 million a year. FIU also serves a large percentage of economically disadvantaged students. Nearly 50 percent of undergraduate students receive financial aid.