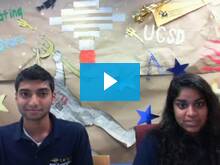 UC San Diego is ranked one of the top 10 public universities by U.S. News and World Report. Innovation is central the school's mission that knowledge isn't just acquired in the classroom—life is their laboratory. The university was a vision of Roger Revelle, then director of the Scripps Institution of Oceanography, as a graduate school of science and engineering comparable to the quality of Caltech. The university is now a designated sea and space grant institution, with a very high level of research activity and an R&D budget in excess of $879 million.
Fast Facts
College Type: Public
Program Type: 4-Year University
College Size: Large (over 5,000 students)
Campus Setting: Urban
The university is home to research institutions focusing on telecommunications, information technology, oceanography, and medical science, and has alliances with regional research centers, including the Salk Institute, the Burnham Institute of Medical Research, and the Scripps Research Institute. UC San Diego students learn from an exceptional faculty that includes numerous Nobel Prize Winners, National Medal of Science Winners, MacArthur Fellowships, and Field Medals.

UC San Diego was named the #1 school in the nation by Washington Monthly two years running. The judges were impressed with how the university serves as an engine of social mobility, how it promotes service to country, and how it approaches research. The school was also noted as being #1 in the nation for having a positive impact on the country (Washington Monthly's College Guide) and was deemed an "Up and Coming School" by U.S. News & World Report.
The campus is located in the La Jolla neighborhood of San Diego, occupying 2,141 acres near the Pacific coast. The school hosts 23 intercollegiate sports in the NCAA Division II.