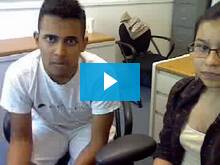 As the University of California's flagship campus, Berkeley is considered a "City of Learning". A wellspring of innovation, UC Berkeley is known for its contributions to the economic and social well being of the community. Students can choose from 130 academic programs and more than 80 interdisciplinary research units.
Fast Facts
College Type: Public
Program Type: 4-Year College
College Size: Large (over 5,000 students)
Campus Setting: Urban
The school has a strong focus on research, receiving nearly $650 million in research funding last year. The Association of Research Libraries ranked the university's research library #1 in North America. Moreover, the National Science Foundation awarded more graduate research fellowships to UC Berkeley students over the past decade than to those of any other university.
The National Research Council found that the university has the largest number of highly ranked graduate programs in the country.The university encompasses 14 colleges and schools across its 1,232-acre campus. The most popular degree programs include Electrical Engineering and Computer Science, Political Science, Molecular and Cell Biology, Environmental Science, Policy and Management, and Economics. The university's notable faculty includes numerous Nobel Prize winners and MacArthur Fellows.