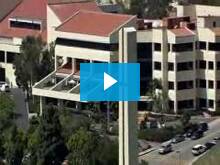 Pepperdine University is an independent university focused on academic excellence and Christian values. Located along the Pacific Coast in Malibu, Pepperdine offers a wide array of undergraduate, graduate, and professional programs. The school's 7,700 students study at the Seaver College, The School of Law, the Graduate School of Education and Psychology, the Graziadio School of Business and Management, or the School of Public Policy. Courses are taught in Malibu, as well as four graduate campuses in Southern California, program facilities in Washington D.C., and international campuses in Germany, England, Italy, Switzerland, Argentina, and China.
Fast Facts
College Type: Private
Program Type: 4-Year University
College Size: Small (under 5,000 students)
Campus Setting: Urban
The university's Christian principles are found throughout all aspects of academic life and administrative policy. The school is affiliated with the Churches of Christ, however, it welcomes people of all faiths. Faculty, administrators, and members of the Board of Regents come from various faiths and backgrounds.